Can I Run After Total Knee Replacement?
Can I Run After Total Knee Replacement?
Written By Pro Physio on April 3, 2018
---
Can I run after a total knee replacement?
What is a total knee replacement?

A total knee replacement is a common procedure that is performed for individuals that are suffering from severe knee pain usually related to chronic arthritis or an old untreated injury. Individuals who have undergone conservative measures such as performance of physical therapy, but have not found any symptom relief, are often educated about the possibility of receiving a total knee replacement, also called knee "resurfacing" because only the surfaces of the bones are actually replaced. This replacement consists of two metal inserts that are placed into the bones and often fixed into a permanent position with cement. The patella (kneecap) is then reshaped so that it glides easily over the newly resurfaced bones without restriction or further damage to the patella. Depending on the needs of the recipient the orthopedic surgeon will select the best total knee replacement device to help the patient meet their goals post-surgery. Commonly used knee replacements can be seen below.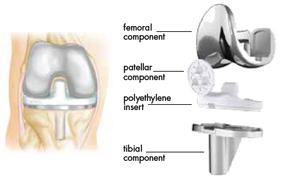 What to expect after a total knee replacement.
After undergoing a total knee replacement, a rehabilitation program is then developed to help the recipient regain normal knee range of motion and strength. These programs are commonly developed by physical therapists who actively communicate with the orthopedic surgeon ensuring proper strengthening and movement of all the muscles around the knee joint. This program will further stabilize and protect the newly resurfaced knee through correct neuromuscular activation. Most physical therapy rehabilitation programs last for about 3 to 6 weeks, which, upon completion, allow for a complete return to most daily activities.
Life after completion of your rehabilitation program.
After finishing their rehabilitation program many individuals may still be left with some unanswered questions concerning activities that they can perform without the possibility of damaging their newly resurfaced knee.
One of the most commonly asked questions is "Can I return to running after total knee replacement?" According to the America Academy of Orthopedic Surgeons (AAOS) most recent total knee replacement guidelines developed in 2017, running is considered a high impact activity and should be avoided due to the subsequent negative effect it can have on your artificial joint. Follow this link to read all the recommendations by the AAOS concerning activities after knee resurfacing: http://orthoinfo.aaos.org/topic.cfm?topic=a00357.
While the answer to this question can be quite disheartening to some, there are still many activities that can be performed safely after a total knee replacement. Your new artificial knee is designed to mimic a natural knee and therefore needs exercise to function properly and maintain bone and muscle health along with growth. Cross training such as riding an elliptical machine or stationary bike are both safe exercises post knee resurfacing, and can commonly be found in most gyms to help keep a healthy aerobic activity level. Mountain biking, hiking, snowshoeing and cross-country skiing can all be performed as long as the participant stays mindful to prevent any excessive twisting motions or extremely high forceful push offs with the affected joint while performing. Dancing is also a safe activity and can be a great way to engage your leg muscles while also performing light to moderate aerobic activity.
Pro Physio is highly trained to help individuals who have undergone a total knee replacement to return to a very active lifestyle through specifically designed rehabilitation programs that meet the demands of each patient.
If you have any further questions feel free to contact the Physical Therapy Team at Pro Physio Bozeman at 406-577-2730.
To read the full article concerning total knee resurfacing from the AAOS visit the following link http://orthoinfo.aaos.org/topic.cfm?topic=a00389.

Posted In: Knee Physical Therapy